Dr. Vinod Kumar 
B.A.M.S, M.D.U (Rohtak), Dip. In Panchakarma (Kerala), Ayurveda consultant & Panchakarma specialist.
Dr. Vinod Kumar has completed his B.A.M.S. from Maharshi Dayanand University Rohtak (H.R) India in the year 1998. After that, he took advanced training in Keralian Panchkarma Treatments from Anoop Ayurveda Hospital, Kollam, Kerala under the guidance of Dr. Unnikrishnan.  Dr. Vinod Kumar has 20 years of experience of teaching (Ayurveda & Yoga philosophy, anatomy & physiology for yoga studies) & an Ayurveda consultant & Panchakarma Specialist with different assignments in Ayurveda hospitals.
Worked as an Ayurvedic Medical Officer in Civil Hospital, Bhiwani, Haryana
Worked as Resident Ayurvedic Medical officer in Anoop Ayurvedic Nursing Home, Kovalam, Kerala.
Worked as an Ayurveda & Panchakarma consultant in Shri Kayakalp Aryavaidyashala, Janakpuri, New Delhi.
Worked as an Ayurveda & Panchakarma consultant in SPA division of Ranjit's Svaasa Heritage Resorts, Amritsar Punjab.
Worked as Ayurveda & Panchakarma consultant in Age Veda Spa (Baidyanath Group) in Hotel

Dr. Neetu Singh
B.A.M.S / Yoga Instructor
Dr. Neetu Singh was born at Haridwar a holy city situated in the north part of India. She is an Ayurveda doctor & Yoga teacher. She has completed her Ayurveda degree( B.A.M.S). from  Gurukul Khanpur of Maharishi Dayanand University, Rohtak, Haryana, India in 2003. She did YIC (Yoga Instructor Course) from SVYASA university Bangalore India & one year Post Graduate  Diploma in yoga from Dev Sanskriti University, Haridwar, India. She belongs to a traditional Ayurveda family. Dr. Neetu Singh teaches Hatha yoga, Sivananda yoga, Ashtanga, Vinyasa yoga, Meditation, Ayurveda & yoga philosophy etc. She has also studied the Vedas, Vedanta, the Upanishads, and the Bhagavad Gita. Dr. Neetu Singh has 15 years of experience of teaching & practice of Ayurveda & Yoga. Dr. Neetu is a multi-faceted personality, an expert in the field of Therapeutic Yoga& Ayurveda. The primary focus of her teaching is to apply a holistic approach to healing her clients through a combination of Therapeutic Yoga, Diverse Meditation techniques, Mantra, and Mudras.
"Her goal is to spread yoga and spirituality, Ayurveda and harmony, love, peace, and stress-free living all over the world".
" Our Yoga Experts "

Yogacharne: 
Soma Mukherjee
From a young age, Soma was drawn towards a spiritual way of living and mind-body connection. She loved yoga right from the start, exploring many different styles. It wasn't until a couple of years later that Soma started practicing Asan Pranayam & Meditation yoga and meditative qualities captured her heart. Soma had no intentions of teaching yoga. She wanted to immerse herself in a training to deepen her practice. Little did she know the universe had other plans. Soma has practiced with many renowned teachers and is always learning and expanding her experience and knowledge of this lifelong. She is a self-practitioner and believes in growing the mental health of people and decided to share her knowledge and experience. Her teachings and practice have evolved with time. She not only teaches group classes incorporating intelligent and invigorating sequencing, good music, and calming energy but specializes in working one on one. She works with professional athletes, and the local community using yoga as a tool to help address, assess, and work through physical injuries and imbalances and foster a greater sense of awareness, healing, and balance in the body and mind. Soma strives to bring yoga into everyday life by doing, evolving, and truly living it, allowing peace and joy to flourish within and spread to others.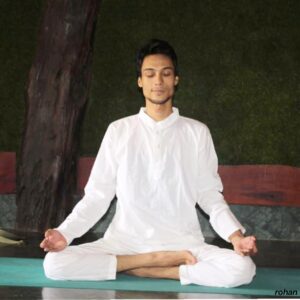 Yogacharya: Rohan Rawat
Rohan Rawat born and bought up in Rishikesh, also known as the international capital of yoga. It was in his gene to relish and explore the significant ancient art of yoga, He has been teaching for seven years students love his teaching style, he is very inspiring & Motivative. and he is a master of hatha yoga, Primary series of ashtanga vinyasa yoga and asana alignment. His style of teaching is a dynamic combination of intelligent sequencing and alignment for the body. He has complete knowledge about different style of yoga. He was introduced to yoga at a very young age. After finishing his master's in yogic science, he went to China, he has been teaching Yoga all across the globe. He has been donating his 10% of income in the well-being of poor children He decided to carry the mantle of promoting yoga and help all the possible people who longing for help through yoga by being a yoga teacher.
"Our Visiting Faculties"
Dr. Neetu Singh B.A.M.S, YIC (Bangalore), Yoga Instructor & Ayurveda Wellness Expert
Dr. Sanjay Chauhan M.S (Gen. Surgery )
Dr. Tarun Gupta B.A.M.S, (D.U), Dip. In Panchakarma (Kerala)
Dr. Rani Guputa B.A.M.S, M.D( Ay), Institute of Medical Sciences (B.H.U), Consultant Gynecologist & Infertility Specialist
"Our Therapist team" 
Ayurveda therapist & trainer:
Mr. Mayank Nautiyal
Mayank Nautiyal is an accomplished Ayurveda therapist & trainer working with Ayuskama for most recent three years. He additionally instructs at Ayuskama Ayurveda. Mayank makes the most of his educating and plans to make the conventional approach of Ayurveda therapies.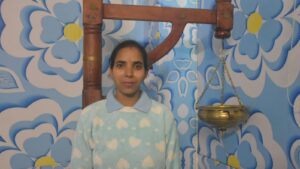 Ayurveda therapist & trainer:
Aruna 
Therapist Aruna holds immense experience of practicing panchkarma and massage therapy with Ayuskama. She is serving her duty with pure devotion. Aruna adores traveling new places and investigate the excellence of nature. She is very polite and the best in her work as many clients appreciates her work. Working with Ayuskama for many years she have contributed a lot in our progress and have proved herself  many times.
General Manager:
Shubham Goswami 
Solving problems and directing people toward right direction, is the aim of Shubham since a long time. He managed Ayuskama Ayurveda for so  many years, and have made us successful to serve people. People really appreciate his work and efforts that he make to provide best to his clients and guests. His efforts are countless and his hard work and dedication has made Ayuskama to stand out among others. He manages all the things happened in our organization. Good behavior with the clients and always have positive thinking. He is an easy going person.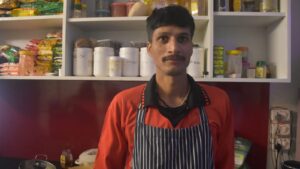 Head Chef:
Narendra Negi
Narendra Negi is the Head chef at Ayuskama Ayurveda who is controlling and directing all the food preparation process and any other relative activities. He provides the best Ayurveda food and is serving people for many years. His specialty is Ayurveda nutrition food knowledge. He also conducts the Ayurveda cooking classes for the people for a long time. Ayuskama Ayurveda is blessed to have a chef like Narendra who prepares the tasty and healthy food for all the people. Managing and working closely with other Chefs of all levels makes him the best chef in Ayuskama.
      
House cleaning

: Prashant Kumar 
one of the most important part of Ayuskama Ayurveda is Prashant Kumar. He supervises the house cleaning department and make sure that everything goes well, neat and clean. He is working form so  any years and have proved his work by getting appreciation from the people. His responsibilities include tasks like vacuuming, sweeping, emptying trash cans, dusting shelves, cleaning windows, and mopping floors. We thank him for his contribution in house cleaning department.