Rejuvenation (Rasayana) Package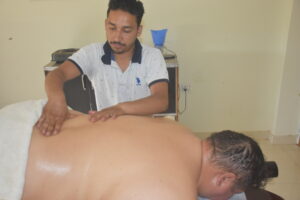 This package is designed to improve your vitality, dahtus (body tissue)& strong immune system. Due to our present-day lifestyle & food, our immune system & stress level is changing & we look older in young age.
Ayurveda Rasayana therapy is popular worldwide to balance ourselves. We follow traditional Ayurveda principles & therapies for this like oil massage, Shirodhara, beauty therapies, etc.
Herbs & Rasayana after the treatment.
REJUVENATION (RASAYANA) PACKAGE
LOCATION: Rishikesh, India
7-DAY RETREAT: Rs 24500/Per Person ($385: Foreigner Price)
14-DAY RETREAT: Rs 49000/Per Person ($685: Foreigner Price)
21-DAY RETREAT: Rs 73500/Per Person ($1005: Foreigner Price)
FOR COUPLE
7-DAY RETREAT: Rs 38500/Two Person ($371: Foreigner Price)
14-DAY RETREAT: Rs 77000/Two Person ($1025: Foreigner Price)
Rejuvenation (Rasayana) Package Inclusions :
(a). Ayurvedic Treatment
(b).Yoga & Meditation
(c). Daily Examination
(d). Ayurveda Consultation
(e). Ayurvedic Sattvik Diet
(f). Prakriti (Boday Nature )Analysis
(g). Rasayana Therapy
(h). Yoga Therapy