300 Hour Ayurveda Yoga Teacher Training Course:
Transform Yoga Skills as a Certified Professional with Our 300 hour Ayurveda Yoga Teacher Training Course in Rishikesh, India
Ayuskama Yoga school offers 300 hour Yoga Teacher Training Program in India provides a great opportunity for you to explore, and deepen your existing knowledge of yoga. The yoga course of 300-hour yoga teacher training structure is somewhat similar to the 200-hour course but its advance level steps forward to further expand on general and specific topic discussions regarding each subject. 300-hour yoga teacher training course to deliver the greatest results during in 4 weeks course program, allows the students to take a dip deeper into the Yoga world. Give a professional edge to your qualification of 300 hour Yoga Teacher Training with this advanced Yoga Alliance certified Yoga course. The way to tranquility & complete freedom was never paved so clearly before. 300 Hour Yoga Teacher Training in Rishikesh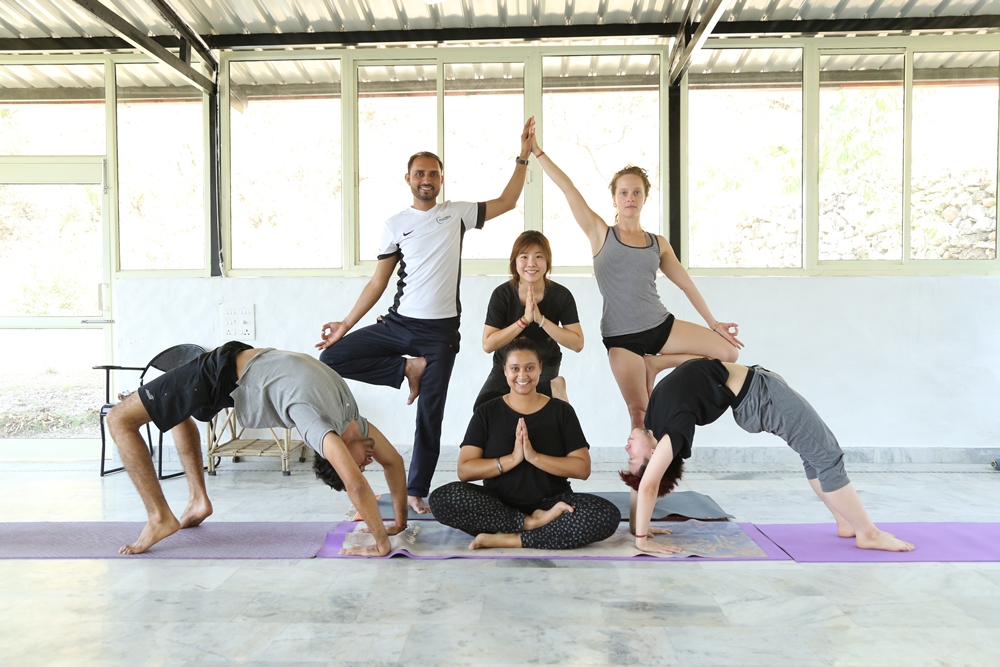 Ayuskama has been well-recognized as one of the most renowned institutions offering yoga and Ayurveda as a therapeutic medium for a healthy body, mind, and soul. Moreover, our yoga school has been registered with Yoga Alliance USA and Yoga Alliance International offering you recognition of being a certified yoga teacher after successful completion of our teacher training program.
Book Your Mat For 300 Hrs Ayurveda Yoga Teacher Training in Rishikesh
300 Hour Yoga Teacher Training in Rishikesh
Syllabus of Study for 300 Hours yoga course Advanced Hatha and Ashtanga techniques
Advanced Pranayama techniques
Bandhas (Yogic locks)
Mudras (Yogic Gestures)
Advanced Shatkarmas/Kriyas (cleansing techniques)
The deep study of Human Anatomy and Physiology
Principles for sequencing Hatha, Ashtanga
Study of Ayurveda – Panchakarma, seasonal regimen, nutrition, and the yogic diet
Advanced mantras (for Chanting and Meditation)
Yoga Philosophy (eight limbs of Ashtanga Yoga) with Patanjali's Yoga Sutras
Teaching Practicum
Ethics for Yoga Teachers
Yogic lifestyle
Our Other Yoga Course
TUITION FEES:
$1599 USD 
( Private Accommodation)
.
Live dates ( 2022 )

Payment Options:
Courses Registration Fees 200 USD + 10 USD Handling Fee
Shatkarma accessory (Cleansing techniques), Deposit instructions and details will send to you on your acceptation. Payment methods (Bank transfer /pay pal/western union).
The rest of the payment will be payable on admission day.
Including With The Course :
 Ayurveda &Yoga course material
One notebook,
One day out tour to the nearby location
 Ayurveda pulse diagnostic consultation with our Ayurveda doctor
Twin sharing room with attached bathroom
Ayurveda & Yogic meals three times a day
2-3 time herbal tea
Yoga Alliance certificate
Terms and Conditions: Please Read Carefully
Refund Policy: the Deposited fee is non-refundable, but it is transferable to another upcoming training course.
At least 90 % of attendance of student is compulsory for doing the course.
Tamsik food like Non-veg food, smoking, drinking any form of alcohols is restricted in yoga school.
Important Notes:
We have limited seats available for short-term yoga courses and retreats, therefore, booking in advance is highly recommended.
The daily schedule is subject to change depending on conditions.
Assistance:
If you have any questions related to Registration, Payment, Visa or any other query about our Ayurveda Yoga teacher training in Rishikesh, please contact us at Ayuskama Ayurveda Rishikesh email: ayuskamarishikesh@gmail.com
Mob-+91-9917317388