Yoga Meditation Retreat in Rishikesh, India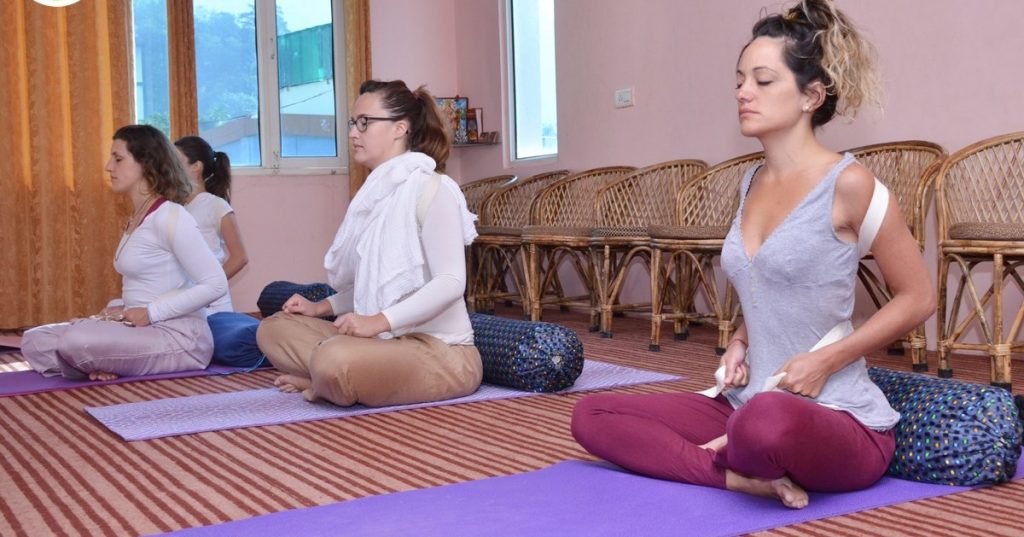 Ayuskama Ayurveda and yoga school in Rishikesh provides the best vacation Yoga Meditation Retreats in Rishikesh India. This is the better chance to stay away from the busy schedule and experiencing a relax Meditation retreat at Rishikesh India. This yoga meditation retreat is designed to provide you relax and revive at different levels in the Home of enlightened Saints and sages. This retreat serves the need of spectrum of people to let them understand the easy and different ways of yoga and meditation, even if you are a beginner or practitioner. This retreat is the best solution to improve health, focus, reduce stress, restoring balance and other days to day problem and learn the philosophy of Yoga and meditation based on Indian Vedas- Puranas, Bhagavad Gita etc.
Meditation yoga Retreat India- why in Rishikesh, India?
India is popular for its traditions, Yoga, meditation, Ayurveda and spiritual knowledge. Rishikesh is the base of all these sacred destinations that is home of enlightened saints. If you are searching for the best place to find yourself with experiencing yoga and meditation then Rishikesh is the best place for you because it is the birthplace of meditation and yoga. The town is the heart of spiritualism that is surrounded by hills and banks of Ganga River in Uttarakhand. Here you can get a better chance to meet yourself with the peace of this Town.
Aims & Objective: Yoga Meditation Retreat Rishikesh, India
Yoga and meditation is the key to stay healthy and happy. People learn meditation for many different reasons. Few people learn it to deal with different challenges in daily life, to find peace, joy, and other different things. This retreat is designed with the aim to experience people with a strategy that can teach them how to become less reactive, more tranquil, and more harmonious with those around us. We focus on healing the inner stillness that can allow you to stay peaceful in every situation with long term. With this program, you will gain the complete knowledge and experience of yoga and meditation.
Who can join- Meditation Retreat Rishikesh, India
Anyone who wants to learn and understand about meditation can join this course. This is the best way to fight with all your inner problems. Also, the Yoga teachers, Pilot Instructors, fitness Trainers & gurus, healers, Health and wellness coaches, social workers, therapists (Physical, Massage etc), psychologists, educators and all and so forth can join this course. There is no necessity of previous experience. (People age of 18-75 years can join freely this retreat).
Meditation Retreat program Live dates ( 2020 ):
Price for one-week Meditation Retreat is $500 (Sharing room )
One & Two weeks Meditation Retreat in Rishikesh.
5th Aug 2019 & 19th Aug 2019$500Fully Booked Now
| Course Date | Course Fees | Registration |
| --- | --- | --- |
| 24th Feb to 9Mar 2020 | $500 | Apply Now |
| 14th Mar To 28th Mar 2020 | $500 | Apply Now |
| 1st April To 16th April 2020 | $500 | Apply Now |
| 20 April To 3rd May 2020 | $500 | Apply Now |
Payment Options:
Courses Registration Fees 200 USD + 10 USD Handling Fee
Deposit instructions and details will send to you on your acceptation. Payment methods (Bank transfer /pay pal/western union).
The rest of the payment will be payable on admission day.