200 Hour

 Yoga Teacher Training Course in Rishikesh
Ayuskama offers 200 hours Ayurveda Yoga Teacher Training Courses (AYTTC 200 Hrs) & Yoga teacher training course (YTTC 200 Hrs) in Rishikesh, India. Our school is registered with state Government of India. We are registered with Yoga alliance USA & Yoga alliance international. This Yoga teacher training is based on traditional Hatha Yoga.
Our Ayurveda & Yoga courses are designed by Qualified Professionals & taught by professional Ayurveda doctors & Yoga guru. We  Provide Yoga Alliance USA Registered intensive program, students are taught in the various disciplines of Yoga. The course includes understanding the concept of balance of mind, body and soul; and learning to achieve balance with traditional Yoga & Ayurveda.

Ayurveda Yoga teacher training course (AYTTC) & Yoga teacher training course(YTTC)  is designed by our yoga gurus Dr. Neetu Singh and Dr. Vinod Kumar  who are having over 13 years of experience in Yoga training with Other teachers of Ayuskama foundation. The course aims to nourish the internal powers of an individual and help use it for his or her own benefit. Any individual interested in 200 Hours Ayurveda Yoga Teacher Training course or 200 Hrs yoga teacher training course in Rishikesh, India can apply through https://ayuskamarishikesh.com/contact-ayuskama-rishikesh/application-form/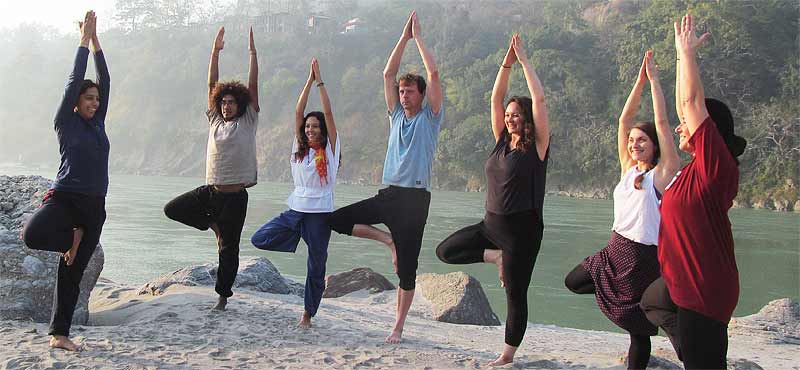 For centuries, Yoga has been practiced by saints of India to keep them energetic and mentally sharp. The concept which originated in India is now extensively practiced across the world. A brand new face called Power Yoga Exercise has emerged with time influencing the lives of many.
Ayuskama Institution is dedicated to offering quality Yoga education and spreads the knowledge, practice, theory and therapeutic aspects of holistic lifestyle based on ancient and modern wisdom far and wide. We are Government registered institution and our Ayurveda yoga Teacher Training program & Hatha yoga teacher training course is one of the most sought-after training courses in Rishikesh-India.
Ayuskama offers different types of Yoga training courses. Courses are designed for the physical and psychological development of the participants while some courses teach you how to diagnose a certain condition and how to treat it via advanced yoga exercises. Students enrolling for Yoga Teacher Training with Ayuskama will receive Certification after finishing their teacher training program.

200 Hours

Yoga Teacher Training Course syllabus

Basic Yoga Philosophy
Background of Yoga, Patanjali's Yoga Sutra and eight limbs of the Paths of Yoga
Knowledge of Yogic lifestyle (based on four principles of Yogachara-ahara, Achara, Vihara & Vichara)
Ethics to be followed by Yoga teacher
Ayurveda & traditional texts (Yoga Sutra of Patanjali, Samkhya philosophy, Charka Samhita, Sushruta Samhita, Bhagavad Gita etc.)
History of Yoga
The Functions of the Mind and our Greater Consciousness
The System of Raja Yoga, Ashtanga, the Eight Limbs of Yoga
Examination of the Subtle Body, Chakras, and Nadis
Asana
It covers the different postures practiced in Yoga. Customers learn the techniques & get training followed by practice. It includes the principle of instruction, demonstration, observation, assisting/ correcting. Conscious training concentration is also covered.
You will be performing the Yoga steps under the supervision of Yogacharya.
Shatkarma (Yogic way of purification)
Nauli
Dhauti (Vamana)
Jala Neti
Sutra Neti
Kapalabhati
Tratak
Meditation
We provide rich teaching & training content to help learners develop their skills and become a successful meditation teacher.  You learn the benefits at every stage of the progress. We help the learners reach the ideal state of consciousness.
Pranayama (balance Prana energy) & Mantra healing therapy
Balance Prana energy by learning the science of Yogic way of breathing
Feel the dynamic resonance of Vedic mantra chanting.
Prana, Tejas and Ojas – the three vital essences.
200 Hours Yoga Teacher Training Course Dates at Rishikesh 2022

| Course Date | Shared Accommodation Fees | Private Accommodation Fees | Registration |
| --- | --- | --- | --- |
| | | | |
| 1st Oct to 28 Oct 2022 | $999 USD | $1199 | Apply Now |
| 1st Nov to 28 Nov 2022 | $999 USD | $1199 | Apply Now |
| 1st Dec – 28 Dec 2022 | $999 USD | $1199 | Apply Now |
| | | | |
| | | | |
| | | | |
| | | | |
| | | | |
| | | | |
| | | | |
| | | | |
| | | | |
| | | | |
| | | | |
| | | | |
| | | | |
| | | | |
| | | | |
How to Apply
Students interested in 200 Hours Ayurveda Yoga Teacher Training & Yoga teacher training course need to fill  the Registration Form available at https://ayuskamarishikesh.com/contact-ayuskama-rishikesh/application-form/
For fees and other details interested candidates can call us at (0091) 99173 17388 or email us at ayuskamarishikesh@gmail.com