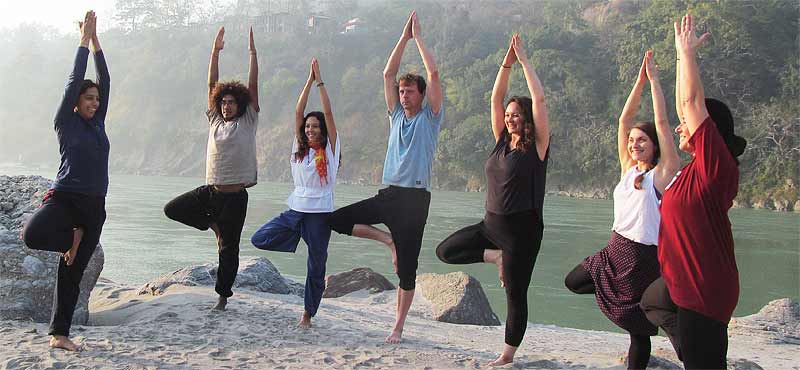 Rishikesh is a small scenic town situated at the foot of the Himalayas along the banks of the River Ganges in the Indian state of Uttarakhand. Rishikesh is a religious and historic town, also known as Yoganagari, which basically means the 'City of Yoga'. This town has been home to many rishis and saints over the years. Rishikesh is one of the best destinations to visit for the art of yoga and spirituality especially if you are looking at yoga teacher training.

Today Rishikesh is known as the Yoga Capital of the World, and all for good reason. This is the holy city where ashrams have a peaceful environment and landscape and the sacred river Ganges flows. This city is the home to the annual International Yoga Festival which is held in early spring and this festival attracts yoga enthusiasts from across the world. The town of Rishikesh is also an ideal destination for the people who also are interested in adventure, meditation, and yoga as it provides a peaceful and natural environment to focus on your yoga practice.
Read on to know why yogis and students from all over from all over the world visit Rishikesh to learn and practice yoga teacher training:
Rishikesh is a Community of Reputed Yoga Gurus-
Rishikesh is the holiest place for the Hindus. Saints who have been visiting the city for many years have mastery in yogic arts. Many reputed yoga gurus such as Swami Shivanand, Guru Vashishtha, Swami Dayanand Saraswati, etc. have chosen the holy city for their spiritual practices. Here, you can find many courses for yoga teacher training and learn from the best!
Rishikesh is a center for yoga retreats and yoga teacher training-
Rishikesh having a rich yoga and spiritual heritage is home to the most reputed yoga schools all over the world. You can opt to simply experience yoga by attending a couple of simple beginner classes or even get a yoga teacher training certification, there are so many options available for everyone!
Rishikesh is Located in the Middle of Nature-
Situated at the foothills of the mighty Himalayas, Rishikesh has lush greenery, fresh air and pristine waters to offer to its visitors. The local authorities here have taken special steps to check the pollution levels to make sure the natural beauty of this town remains the same. While there are some yoga institutes which are in the middle of the city, there are many which are situated away from the hustle bustle of the city life. These schools provide for the perfect environment for yoga enthusiasts from all over the world to practice and learn the art of yoga in peace amidst nature.
Rishikesh radiates overwhelming spiritual energy-
It is strongly believed that the spiritual energy of town is elevated on account of Ganga. Thousands and thousands of yogis who have spent their lives here have only added to the spiritual energy of this holy town. Many yogis are engrossed in the meditation of God for years. Yogis have not eaten anything for many years. Yogis are so absorbed in the devotion of God that they do not even care to eat.
Ayurveda – An Ancient alternative medicine system in India-
Ayurveda has been practicing in India since many years. Ayurveda is an Ancient alternative medicine system in India and till so far many people have got a lot of benefits from Ayurveda. The worst disease is cured by the treatment of Ayurveda. Treatment of diseases like asthma, cancer is successfully possible in Ayurveda. It has been seen many times that people are unable to find their treatment in alternative medicine and in the last get their successful treatment in Ayurveda. Ayuskama Ayurveda Rishikesh is working to take forward the practice of Ayurveda. Ayuskama Ayurveda Rishikesh cures all kinds of diseases just like ancient medical science. The doctors here are well qualified and practicing in Ayurveda since last 22 years. They have the most popular therapies, whose names are Shirodhara, Panchakarma. Here people are interested in Panchakarma detox and Shirodhara and the results of these therapy are fantastic. People happily post their reviews on Google and on YouTube as well (by clicking google and youtube you can see their reviews). Ayuskama Ayurveda Rishikesh is in Ayurveda for more then 22 years and where all kinds of diseases are completely treated. When you reach Ayuskama Ayurveda Rishikesh, you will see that their method is different from other Ayurveda centers. They do not do any compromise in their diet plan and Ayurveda treatments and as a result their patients go happily. Ayuskama Ayurveda Rishikesh's staff is very good, you will come to Ayuskama and you will see that the staff here is very friendly, you never feel that you are from outside and their food is just like home. Some people say that those people who do not get proper treatment in alternative medicine, they come to their clinic and get relief. Even Ayuskama Ayurveda Rishikesh is going to make a new identity in Ayurveda and in Rishikesh. Ayuskama Ayurveda Rishikesh is providing its service in Ayurveda for the last 25 years and will continue to give it further. If you also want to do any such treatment of yours which has been unable to cure from long period of time and if you are desperate to cure that disease, then you will definitely get relief in Ayuskama Ayurveda Rishikesh. Ayuskama Ayurveda Rishikesh has Panchakarma Therapies, which is a detox therapy, after taking it, all the dirt goes away from the body and the patient feels very light. This therapy is not only for Detox, millions of people have also got relief from their chronic diseases by taking this therapy.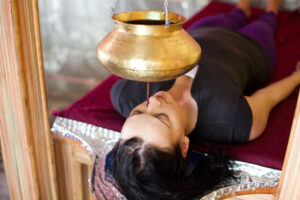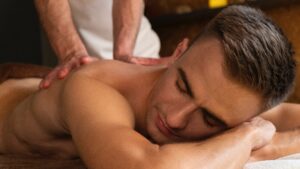 All the treatments are being done here under the supervision of experts.
Ayuskama offers Consultation given by traditional Ayurveda doctors and while doing the consultation, doctors know what type of body constitution the patient has and which is the best treatment is possible.
Ayuskama Ayurveda Rishikesh is also offering online Ayurveda consultation as well
Ayurveda Panchakarma Treatment (detoxification)
Panchakarma (detox) is five-fold therapy. So this therapy is according to the constitutional body type of the patient, such as dosha imbalance, age, digestive power, immune system, and many more factors.
Ayurveda Beginners Course
Ayuskama Ayurveda Rishikesh is offering an Ayurveda Beginners Course which helps you to understand the basic concept of Ayurveda, the relation between mind, body, and soul. Ayuskama Ayurveda experts will give you a feel of the ancient medical science that has been practiced for centuries.
Ayurveda Advanced Level Course
In Ayurveda Advanced Level Course, you will know and get to know about Ayurveda deeply. Ayuskama Ayurveda Rishikesh offers both theory and practical classes where you will study anatomy and physiology from the perspective of Ayurveda. Here you will also learn how to prepare nutritious food for yourself and also you will familiarize yourself with Panchkarma, Nadi Pariksha, Ayurvedic herbal medicines, and oils.
Ayuskama Ayurveda Yoga Courses
Ayuskama Ayurveda Yoga Rishikesh is offering 200/300 Hours Yoga teachers training course in Rishikesh, Uttarakhand. This course is also for those people who want to make their career in Yoga. Till now thousands of people have got their desired job by taking the course of Yoga Teachers Training from Ayuskama Ayurveda Yoga Rishikesh. All yoga courses in Ayushma Ayurveda Yoga Rishikesh are certified from Yoga Alliance USA, which means that anybody can do course from here and can get their dream job. This course includes both practical as well as Theory sessions of Ayurveda and Yoga. After completion of the course, the student will get Two certificates from the Institute – one is 200 Hours Yoga Teacher Training Course and another one an Ayurveda course.
Click the link above for more information. 
Meditation Teacher Training Course in Rishikesh
Ayuskama Meditation School of Rishikesh is offering an ancient Indian Vedic meditation technique that is based on health, self-realization, healing, and well-being processes. You will also learn the root problems of What your body and mind need. You will also learn Hatha Yoga, meditation, Ayurveda study, different Vedic healing treatments, and spiritual development so that you can identify the needs of your body. Ayuskama Meditation School of Rishikesh will help you to reduce mental and physical problems by providing yoga, meditation classes, healing programs, etc. Ayuskama is unique because of its teachers, doctors, and therapists who are trained in their respective jobs.
Aim and Objectives of Meditation Teacher Training Course
Ayuskama Meditation school of Rishikesh teaches this course like an ancient science. With this meditation course, you will find out the solution to your life. This course is designed to give the complete picture of meditation So that beginners can also start this course. The Aim and Objective of Meditation Teacher Training Course is to provide the authentic knowledge of Meditation.
Overview of Meditation Yoga Teacher Training Course in Rishikesh
Rishikesh has always been called the city of yoga and Meditation. Many sadhus have done penance here and have made themselves healthy. Believe it or not but today, We do nothing to stay mentally fit so, to stay mentally fit and it is also true that till our minds are not free, we will not get anything. Knowingly and unknowingly somewhere we want our minds to remain calm and for that, we start looking for ways, and for that, we consume so many tablets or medicines from the market. We don't know how many wrong ways we use for a peaceful mind. We forget our ancient civilization, in which the great Rishis, Guru used to keep their whole body and mind healthy only through yoga practice and meditation. So Ayuskama School of Meditation has worked on this thing and brought the old techniques and systems back. After doing this course, you can keep your mind calm, but you can also teach others.
Who can Join Meditation Yoga Teachers Training Course in Rishikesh India
For anyone who is interested in Yoga and Meditation, it is not necessary to have any prior knowledge. Meditation is such an art that it is not necessary to have prior knowledge to learn.
Let's understand the types of meditations are there
Mindfulness Meditation is something where you focus on your present experience which means that you will focus on your emotions, thoughts, etc. Our experts will teach you how to meditate on your present experience.
I am sure you must have heard about Chakra Meditation. So, Chakra Meditation where all different emotions are generated by Chakras. So Ayuskama Ayurveda Rishikesh has brought the solution to control the different emotions and their experts are well trained in Chakra Meditation. So here you will learn how to open your 7 Chakras.
Spiritual Meditation is something that collects your intellectual thoughts yourself. Spiritual Meditation gives you the experience of who you are.
Focused Meditation is something where you need to focus on an object and that could be Candle Light, Sound, etc. Ayuskama Ayurveda Rishikesh is offering a Focused Meditation Course at an affordable price and their experts are well trained in this course. This course will give you an experience of life.
Movement Meditation, this meditation includes movements with physical activities. Movement Meditation gives you an energetic experience.
Mantra Meditation is something that can change everything in your body. In Mantra Meditation you have to focus on mantra chanting. As soon as you chant the mantra, you will start seeing changes in your body.
In Kundalini Meditation, the energy is awakened from the base of the spine. There is also cleansing of thoughts in Kundalini Meditation
Nada Yoga Meditation is a part of Yoga and it focuses on Vibration and music as well. Our experts are fully trained in Nada Yoga Meditation 
Hatha Yoga Meditation includes all the different types of yoga postures and that helps to bring peace to mind and body. Ayuskama Ayurveda Rishikesh is offering a Hatha yoga Meditation course which is supervised by our experts. Till so far many students have learned Hatha yoga Meditation from Ayuskama Ayurveda Rishikesh.
Trataka Meditation means to look or to graze. In this process, you need to focus mostly on candlelight. This is used to energize the third eye or the Ajna Chakra in our body.
Certification 
After successfully Completion of the Meditation Teachers Training Course, students will get the certificate from Ayuskama Ayurveda Rishikesh and which is valid in all over the world.
200 Hours Yoga Teacher Training Course In Rishikesh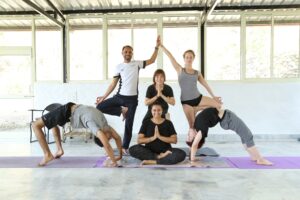 Ayuskama Ayurveda Yoga Rishikesh is offering 200/300 Hours Yoga Teachers Training Course. Our Institute is registered with the State Government of India. We are also registered with Yoga Alliance USA & Yoga alliance international. Our Ayurveda and Yoga courses are conducted by experts and for a long time, our experts have been teaching these courses at Ayuskama Ayurveda Rishikesh India. The course will give you the pure knowledge of the concept of balance of mind, body, and soul, and learning to achieve balance with traditional Yoga & Ayurveda. Ayurveda Yoga teacher training course (AYTTC) & Yoga teacher training course(YTTC)  is designed by our experts Dr. Neetu Singh and Dr. Vinod Kumar who have over 20 years of experience in Yoga Training and Ayurveda. For centuries, Yoga has been practiced by saints of India to keep them mentally and physically fit. This concept is originated in India and now practiced by the world. Now you will see many faces of yoga which is being taught in India and by the world.