Rishikesh, nicknamed Yoga Capital of the World has numerous Yoga centres that attracts Ayurveda and Yoga enthusiast from around the world. It is believed that doing meditation in Rishikesh brings one closer to attainment of Moksha  as does a dip in the holy river that flows through it.
The Ganaga Arti performed at dusk at the Triveni Ghat is popular with visitors. Neelkanth Mahadev Temple, amidst forest 28 km from Rishikesh, is a popular local pilgrimage, along with Vashishtha Guha (Cave of Sage Vashishtha), 21 km up from the town by the Ganges. Over the years, it has established itself as the yoga capital of the world. From the US, Europe and China and Australia, serious yoga students come to learn asanas and kriyas that will help them lead a healthy life.
Rishikesh is home to the 133-year-old Kailash Ashram Brahmavidyapitham, an institution dedicated to preserve and promote traditional Vedantic studies. Prominent personalities such as Swami Vivekananda, Swami Rama Tirtha and Swami Sivananda have studied in this institution.
The Prince of Wales and Duchess of Cornwall visited Rishikesh in 2013 and participated in the Ganga arti.They also conducted a special having for world peace at the Parmarth Niketan. Charles said: "I am amazed by the experience of sitting on the bank of one of the ancients rivers of the world. It is the right time for us to rediscover our connection with nature."
Yoga has become a workout exercise in the west. Hatha yoga is a great practice for the body and mind, so it's no surprise that it is so readily adopted at fitness studios. Given that there are so many varieties of yoga available, why would one want to go to India to do yoga?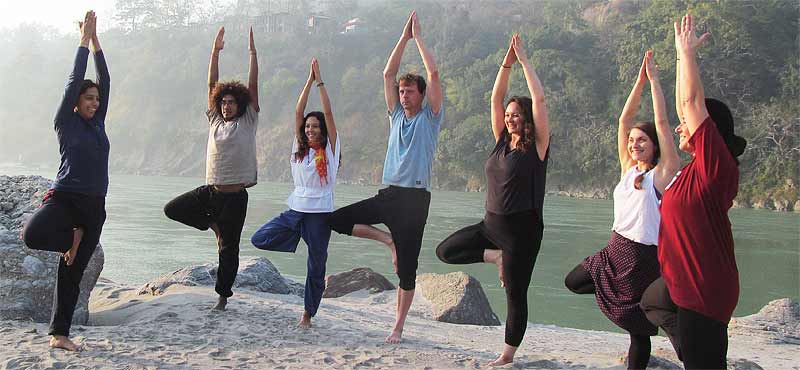 Rishikesh is the birthplace of yoga. It's also a well-known spiritual yoga center in India. For thousands of years, sadhus, babas and yogis have made their way to Rishikesh to meditate and take a dip in the sacred river Ganga. As yoga was getting popular in the west, Rishikesh too got popular as a famous yogi destination.
Teacher training courses in Rishikesh is the most popular  as People from all over the Globe come here to get certified and be a Teacher.The certifications are accepted globally and only ones reg
istered with the local governments bodies will provide you the certification.
There are many yoga centres, schools and ashrams that offer yoga classes in rishikesh. It's not surprising though. Rishikesh is the birthplace of yoga so it's natural for yogis to make their way to Rishikesh.
Location is another factor that attracts people to Rishikesh. Surrounded by lush green mountains, waterfalls and the holy Ganga River, it is the ideal vacation getaway. Friendly locals, great food and shopping make Rishikesh an ideal tourist destination for backpackers and luxury travelers alike.
When you put it all together, Rishikesh is probably one of the top destinations for yogis and spiritual seekers. There are plenty of vegan and vegetarian restaurants and fresh fruits here. Many day hikes are available for thrill seekers. Not to mention white water rafting! If you are looking for a holiday packed with yoga Rihikesh in India is Just the right Destination.