Since the spread of the corona virus epidemic, the world has suffered a lot, and in these times the only resistance to this virus is our own immunity system. Our body is capable of healing itself, the only thing we can do is to keep our system healthy, pure and strong enough to resist this deadly epidemic. Healthy eating and regular exercise is the best way to tackle this problem and not in these tough times, we also need to keep our body fit whether the situation is deadly or not. Ayurveda and yoga, however has the best remedies and ways to develop a strong immune system in any individual's body.
Develop Immune System According To Ayurveda & Yoga
According to Ayurveda, there are various ways that can help us in improving our immunity, some of those points are mentioned below:
A healthy and balanced diet.
Proper sleeping schedule and regular yoga practice.
It is important to include various spices into your food as some spices are rich in oxygen absorbance capacity and thus reduce cell damage.
Try to make a habit of including detox plans such as fasting or panchkarma cleansing atleast once a year.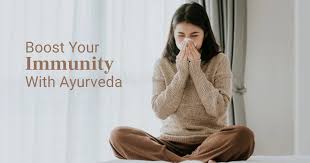 There are many ways of improving the immunity according to Ayurveda and practicing these methods can make drastic improvements in our health and habits. Let us have a look at some of these remedies below:
It is important to make a right start of the day by waking up early, and you can consume tulsi and ginger green tea to clean your upper respiratory system.
It is important to release toxins out of your body for developing a healthy immune system, you can do this by including turmeric and black pepper in your daily foods.
Minimize or totally reduce the consumption red meat as much as possible.
Drink plenty of water (especially warm) and avoid the consumption of alcohol.
How to Develop Immune System According To Ayurveda
Negative thoughts in your minds are also involved in weakening your immune system, so stay stress free, maintain personal hygiene and eat seasonal fruits and try to relax your mind and body by yoga and other pranayams and aasanas. Ayuskama Ayurveda & Panchakarma Center